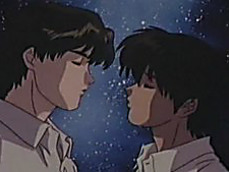 Rating:





3.0
of 5
1 vote(s)
Thank you for rating this video!
You have already rated this video!
Lesson XX
The story of Lesson XX has a sweet feel to it. It revolves around two boys, Shizuka and Sakura who are friends at a coed boarding school. One day, Shizuka happens to notice SakuraÃ?¢ââ??Â?ââ??¢s sheer beauty when he dives in to take a hit from a baseball. After some mixed up thoughts of who Sakura likes, Shizuka tells him he wishes to kiss him as a joke. But Sakura doesnÃ?¢ââ??Â?ââ??¢t care; he still insists that the two kiss under the starry sky. After this incident, Shizuka thinks itÃ?¢ââ??Â?ââ??¢s best for the two to be away from each other, so as to sort out their thoughts and real feelings. A classic shounen ai/yaoi, incorporating love, misunderstanding, intensity and somewhat angst with a sweet end to it.
« GO BACK TO PREVIOUS PAGE