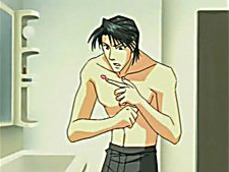 Rating:





0.0
of 5
0 vote(s)
Thank you for rating this video!
You have already rated this video!
Kizuna: vol.3
Ranmaru is a promising Kendo champion. Kei is from a mafioso family. Doubts and mistrust are creeping into their already shaky relationship. Phone calls from mysterious women, and love hotel trysts among the cherry blossoms will not help their stability. Perhaps the only thing that can save these men are the memories of when they first met.
« GO BACK TO PREVIOUS PAGE