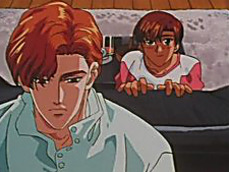 Rating:





0.0
of 5
0 vote(s)
Thank you for rating this video!
You have already rated this video!
Kizuna: vol.2
As Ranmaru resists temptation, Kei's anger builds to a passionate flame. The conflict peaks with the arrival of a mysterious man from Kai's past. Will Kai forfeit the beautiful Ranmaru and return home with his dashing pursuer, or will the guys' love for the same man tear their family apart?
« GO BACK TO PREVIOUS PAGE