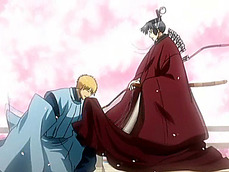 Rating:





3.7
of 5
3 vote(s)
Thank you for rating this video!
You have already rated this video!
Hyakujutsu no Bara: vol. 1
Two soldiers from warring countries are bound by a pledge as master and servant. Taki Reizen is a Commander of sublime beauty, shouldering the fate of his nation. Called ?Mad Dog? because of his rough temperament, Klaus has sworn his loyalty to him as a knight. Despite this, those around them are cold and disapproving, full of various misgivings. For all their genuine feelings, what will come of love made cruel by the intensity of war?
« GO BACK TO PREVIOUS PAGE