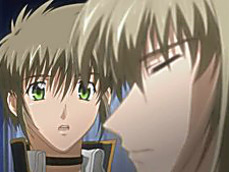 Rating:





5.0
of 5
1 vote(s)
Thank you for rating this video!
You have already rated this video!
Angels Feather: ep. 2
Chou, winner of the national kendo championship, is transferred to an all-boys private school. He there thinks that he meets his lost young guy Kai, who strongly denies this. Strange things happen at the school somehow referring to a magical world called Winfield. After re-encountering his best friend Naoto and while meeting many new friends, which each have specific abilities, he soon discovers his own inheritance and the difficult tasks ahead.
« GO BACK TO PREVIOUS PAGE