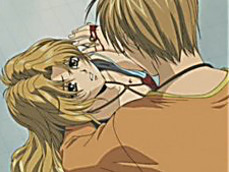 Rating:





3.0
of 5
1 vote(s)
Thank you for rating this video!
You have already rated this video!
Angel Sanctuary: ep. 3
Mudou Setsuna, a high school student, loves his girlfriend in a way that he shouldn't. He also struggles with supernatural powers. Angels and demons flock to him as the day of his awakening draws near, as he is the angel Alexiel, the highest angel which fought against God, reborn.
« GO BACK TO PREVIOUS PAGE